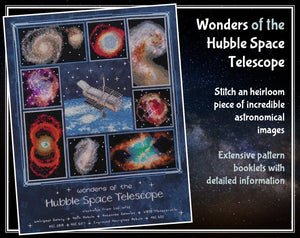 The final installment of the Wonders of the Hubble Space Telescope Stitchalong has just been sent out! It's alway a big day to finally be able to share the full stitchalong pattern, over a year after all the work on it was completed. The complete pattern booklets for this design are now on sale.
---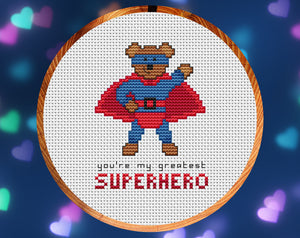 I'm delighted that my Superhero Teddy pattern is part of the Stitchers Against Cancer charity bundle from The Stitchers Collective. You can download all 26 designs in the bundle for a donation of $10 or equivalent to one of four cancer charities before the end of October 2023. Please do check out the other designs and further details at www.thestitcherscollective.com
---
As part of my voluntary work for Love Quilts UK, which makes cross stitch quilts for sick children, I design and produce their charity calendar. Next year's has just gone on sale - we'll be taking pre-orders until the end of October 2023 and then printing the number ordered. It's the best and smiliest cross stitch calendar you could want! :-) Every penny after printing and postage goes to the charity. Available at www.lovequiltsuk.com/calendar
---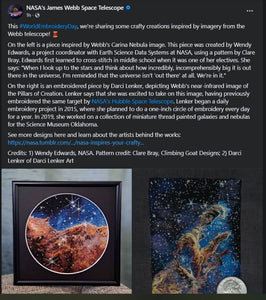 Wendy Edwards' beautiful stitching of the Carina Nebula was one of the pieces shared by NASA for World Embroidery Day. Wendy's work was seen by many thousands of people across NASA's Facebook, Twitter and Tumblr pages!
---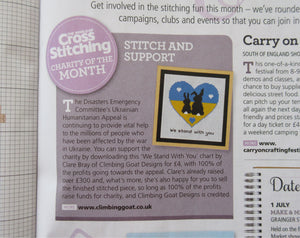 It's lovely to see my Together Bunnies pattern We Stand With You featured in the latest issue of World of Cross Stitching Magazine. Thank you so much to everyone who's bought this pattern so far - 100% of the profits go to help those suffering the war in Ukraine.